Do You Want to Improve Your Time Management Skills to Achieve Your Goals and Have More Success?
Do you have a goal you want to achieve, but you never seem to have enough time and no matter what you try, you just can't get there?
Would you like to find more balance between your life and your work?
Do you want to reduce the stress and anxiety, improve your productivity and

time management skills,

or just find more time to enjoy your life?
No matter what you'd like to achieve, the secrets to success are the same…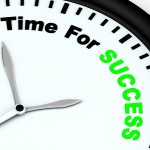 1.  Get Clear.
As specifically as possible, decide what you want. The clearer you are about what you want in your life, the more likely you are to achieve it.
2.  Get Perspective. Most people don't tell anyone what they want or what they're struggling with and because of that, they don't have an outside perspective so they can't see their way out of their current situation.
3.  Get Support. Very few people, if any, achieve anything great alone. Sports stars and CEOs have team members, mentors and coaches.  No one was born knowing how to manage their time, but it is a skill anyone can learn. Be willing to ask the people in your life to support you so you can begin to improve your personal productivity and time management skills.
If you struggle to fit everything into your busy life; If  you're committed to improving your time management skills and you want to change a habit that's slowing you down; If you want to speed up your success rate, then we offer two ways to help you improve your personal productivity and effectiveness:
 Personal Coaching: You can start right away with a special one-on-one personal coaching strategy session. There's no obligation. Just give it a try and see if our coaching process is right for you. Learn more about McKinnon & Company's Personal Executive Coaching Services here...
Corporate Coaching: If you manage a corporate team that needs help improving  productivity and effectiveness or you're responsible for corporate training and development and you want to improve the time management skills of the executives and managers within your organization, we offer a customized training and development process. Learn more about McKinnon & Company's Corporate Executive Coaching Services here…
All Rights Reserved. McKinnon & Company, 21 Robert Rd., Marblehead, MA 01945 781-631-2193