As Seen In

Time Management Executive Coach, Harvard Business School Executive Coach, Time Management Productivity Trainer, Bestselling Author, Virtual Speaker, Founder & CEO, McKinnon & Company
You know how you're always looking to save more time?
● You're so busy and distracted you never have enough time to focus and you feel out of balance.
● You react to your day instead of planning ahead.
● You spend your day going to meetings, catching up on email or responding to urgent interruptions.
● You can't get things done because you're always available to everyone else.
● You procrastinate on important projects because other priorities take up time.
● You let your calendar run your day instead of organizing your day to run your calendar.
★ ★ ★  Kathryn McKinnon solves this!
Kathryn can help you and your team solve time management and productivity challenges to achieve the best results with your time. She's spent over 20 years as an in-person and virtual Executive Coach, Trainer and Speaker showing hundreds of executives, professionals and business owners how to create order out of chaos, accomplish their best work in less time and change the way they spend their time to live more productive, balanced lives.
In addition to having over 30 years of business and leadership experience, she holds an MBA from Harvard Business School. https://www.linkedin.com/in/KathrynMcKinnon
Kathryn can help you solve your time management challenges
✔ Learn strategies and tactics to prioritize and set goals, structure your day so you're not spending it in meetings or doing email; end procrastination, meet your own needs and the needs of others, avoid interruptions and distractions.
✔  Discover how to boost your energy, reduce stress and save time for your highest priorities.
✔  Uncover the reasons why you're not getting as much done as you'd like and the formula for managing time with ease.
✔ Discover how to gain at least 2 hours of productive time every day!
✔ Learn time management best practices, customized tools and tips to stay organized, develop a mindset for success, maintain your focus, do your best work and achieve your goals.
Satisfied clients have been singing the praises of Kathryn McKinnon's Executive Coaching since 1992
This former Harvard Business School Administrator and teacher of the popular HBS Career Management Seminar, has over 32 years of corporate and business experience helping thousands of executives, professionals and business owners change the way they spend their time so they can change their lives.
McKinnon & Company Corporate and individual Clients include
Harvard Business School, State Street Bank, Ernst & Young, Nixon Peabody, PBS, Roche, CBS Radio, MA State House, Fieldwork, Central Ceilings, VMware, IdentityForce, JMP Securities, Hermes Fund Managers, Northeastern University, Asian American Civic Assoc., Infusion Nurses Society of Chartered Property Casualty Underwriters, Alliance Relocation, Wolf & Company, Heritage Financial, Catapult Sports, Boston Women in Finance, National Sporting Goods Assoc., Bristol Myers Squibb, Chrysler Corporation, Chase Manhattan Bank, Price Waterhouse, PepsiCo, M&M Mars, Clorox, Kraft Inc., Quaker Oats, Dell Technologies, Sercomm, Wunderman, CBC, Datacom Group Ltd., Shanghai Baosteel Packaging Co., Ltd., Inkia Energy, Waltersmith Petroleum Oil Ltd. Grant Thornton. References available upon request
Kathryn has successfully managed change, and her time, transitioning with ease into several industries including publishing, sports marketing, financial services, innovation management, executive education, consulting and executive coaching. She has worked as an executive for the 1980 Winter Olympic Organizing Committee, the Bank of Boston, The Center for Executive Development and the Harvard Business School. She has also acted in leadership and advisory capacities for many public and private organizations, non-profits and associations.
She is a mother of two grown sons and happily lives with her husband of 30 years in Marblehead, Mass. With an appreciative awareness that she is blessed with a life of abundance in all forms, Kathryn has dedicated herself to helping others create a life rich in spirit, purpose, prosperity, good health and success.
The time management strategies and tactics she shares will help you create and save time to do more of what you need and want to do.
Kathryn offers in-person, online and virtual Time Management Executive Coaching for executives, professionals and business owners who are under stress and  pressure to squeeze more results out of their team. She shows clients how to apply and implement time management executive coaching best practices, strategies and techniques to their unique situation and with their team to increase their productivity and profitability.
She is also the former host of a weekly Time Management Online Radio Show. Click here to download the show.
Time Management Executive Coaching

with Kathryn gives executives, professionals and business owners a quick way to clarify and prioritize goals, increase focus and mental clarity to be more productive with their time at work and enjoy a personal life too!
---
Virtual Executive Coaching, Speaking and Training Services
Kathryn is a sought-after Executive Coach, time management Keynote Speaker and Productivity Trainer for Businesses, Conferences and Trade Associations. Get Productivity Tips and Time Management Strategies to create and save time with her Triple Your Time Today Executive Coaching Signature System and her popular Signature Training: 7 Time Management Best Practices of Highly Productive Leaders. She offers tailored, in-person, online and virtual:
● Personal Executive Coaching
● Corporate Executive Coaching
● Corporate Training
● Group Coaching
● Workshops
● Keynote Speaking 
● Seminars
● Webinars
● The Triple Your Time Today On-Line Time Management Training Course
---
Bestselling Time Management Book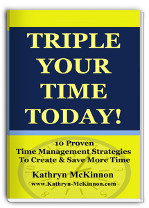 Triple Your Time Today will help you take control over your schedule and shifting priorities during uncertain times, add structure to your day, maintain your focus, create a mindset for success, handle distractions & interruptions, conquer email, reduce stress and meeting overload, boost your energy and maximize your productivity.
Gain 40 Minutes of productive time each day with this Amazon bestseller by Time Management Expert Kathryn McKinnon, a WBENC Certified Women's Business Enterprise, Speaker, Harvard Business School and Fortune 500 Executive and Leadership Coach featured on CBS News, CNN, in Men's Health, Psychology Today, the Boston Globe and MORE Magazine. 
Discover how the Proven Strategies of Productivity in this Time Management Book can help you save and create more time.  Go Here for more details…
★ Contact Kathryn today at [email protected]  for more information about her Executive Coaching Packages, Speaking and Training Products and Services and her bestselling book in its category on Amazon, Triple Your Time Today!
All Rights Reserved, McKinnon & Company, 21 Robert Rd., Marblehead, MA 01945
[email protected] Virtual Time Management Executive Coach Boston, time management speaker, time management trainer, productivity coach, Time Management book