Time Management Book: Triple Your Time Today!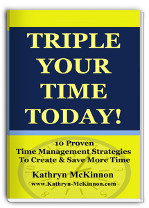 Here are Just Some of the Time Management Strategies, Skills, Tips, Tools, and Techniques You'll Discover in this Bestselling Time Management Book
Ever worry about things that are outside of your control to the point where you're anxious and feeling overwhelmed? When your mind is in chaos, you become unfocused and then you get frustrated because you just can't get it all done. You'll learn how to overcome this problem. Discover simple activities to eliminate the chaos, save time, boost your energy and increase your productivity so you can get more done starting today.
Have you ever been working, and you can't stop worrying about something that's bothering you? Or have you been with your family and you can't stop thinking about work? Most people do this. It kills our productivity and our ability to really be present with ourselves and the people we love. Discover how to identify the things that you worry about and stress about and get closure on them. Learn how to manage your stress and feelings of overwhelm, so you can put them behind you and move forward with confidence.
This Time Management Book will help you learn the time management skills and strategies to take back your time and take back your life quickly and easily!
TRIPLE YOUR TIME TODAY!
10 Proven Time Management Strategies to Create & Save More Time
✔ Learn the 10 Time Management Strategies of productivity and how to use them as a foundation for all your future success starting today.
✔ Discover a specific time management tip to gain 40 minutes of FREE time each day!
✔ Get specific time management techniques and tools to quickly and efficiently renew your mind, body, emotions, and your spirit every single day.
✔ Learn a secret time management technique that will maximize your creativity and your productivity and make you inspired like never before.
✔ Learn time management skills to identify your strengths and your priorities and how to leverage this in your life to create massive personal and financial success.
Do you think multitasking is a good way to get things done? 
● Research shows that you're less efficient when you multitask. In this online time management book, you'll learn to focus on one task at a time efficiently, to eliminate distractions, end procrastination and get your best work done.
● Learn the secret to identifying what is most important in your life so you can focus on it every single day quickly and easily.
● Discover 8 simple ways to quickly supercharge your immune system at the beginning of each day naturally.
● Learn why your mental programming prevents you from starting a new productive habit and what you can do to change that.
Did you know stress starts in the mind and the emotions and works its way into the body?
● Learn a powerful stress management technique and how to prevent yourself from getting overwhelmed and stuck – so you can get more done.
● One skill that highly successful people have in common is the ability to create optimism, even under pressure. Learn the simple time management steps to do this yourself, no matter where you are or how much pressure you're feeling.
● Your future can either be an extension of your past, or it can be something you create consciously. Discover a simple time management technique to take control over your life and start creating the future you love rather than living your past over and over again.  
Buy Triple Your Time Today Here!
---
Time Management Book Testimonials
In this Time Management Book, discover how to turn yourself into a peak performance, high productivity machine and Triple Your Time every day! But don't take my word for it…
Praise for Triple Your Time Today!
Buy Triple Your Time Today Here!  
All Rights Reserved. McKinnon & Company, 21 Robert Rd., Marblehead, MA 01945
[email protected] Time Management Book, Time Management Strategies, Time Management Technique