Time Management Speaker, Executive Coach, Kathryn McKinnon Shares How to Reduce Chaos, Boost Energy & Explode Productivity with Virtual Seminars, Workshops, Webinars, Keynotes and Training Programs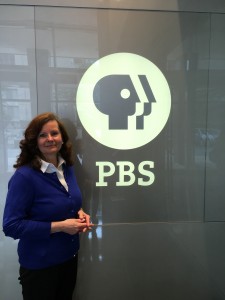 Speaker Kathryn McKinnon Delivered a One-Day Workshop at Public Broadcasting Service
Testimonial for a Tailored Time Management Workshop
"Kathryn is amazing. She did a great job developing and delivering a one-day seminar for PBS. I liked the fact that we worked together so well to integrate all her knowledge, services and expertise to really customize the program for PBS.  The Time Tracking was interesting and useful. The Cost Benefit Analysis worked well too. The Best Practices and exercises offered practical tips and tools for making our time more effective. It was a seminar for the personal and professional side of life. Those are the things that I think are really amazing and wonderful about this program. We will keep moving forward in this relationship with Kathryn."
Jessica Driscoll, Senior HR Generalist, Public Broadcasting Service
Here's what participants had to say:  
"The most beneficial aspect of this training was being able to put my struggles and goals in writing and how Kathryn guided us through the different steps to get to a plan of action. I also liked the real-life stories about her clients and the take-away from each."  
"I liked the flexible solutions to everyday issues, both personal and professional."     
"I liked the fact that the seminar was personalized. The whole session was tailored to my issues and goals. And it wasn't just about my time either. It also encompassed things like my nutrition, time for self, what I need to do to change the way I spend my time while addressing each issue and setting goals throughout the seminar."     
"Even though it was a group setting, Kathryn was able to tailor the seminar to the specific productivity challenges and goals of each person. I also liked the interaction, splitting up into small groups and sharing ideas with partners. Attending this seminar definitely improved my time management skills."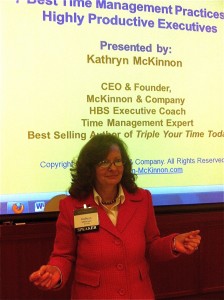 Executive Coach Kathryn McKinnon Gave a Seminar at her Harvard Business School Reunion
Too many priorities, email, meetings and too little time? Discover 7 Time Management Best Practices of Highly Productive Executives & Get Better Results with Your Time
"Dear Kathryn, Thank you for your important involvement in the Harvard Business School Fall Reunion presentations. Engaging with presenters during reunion weekend is a highlight for our alumni. Your participation keeps them connected to the School and energized by the work that we do. This was a record-breaking Fall Reunion, drawing over 2,600 alumni and guests to campus, and the weekend was a great success. I truly appreciate your contribution to making this reunion such a fulfilling and engaging experience for all who attended." Nitin Nohria  Dean, Harvard Business School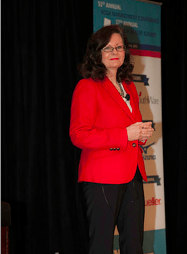 Keynote Presentation at the NSGA Annual Conference in Austin, Texas
Kathryn McKinnon shared How to Gain 40 Minutes of More Productive Time Each Day with 7 Time Management Best Practices of Highly Productive Executives to over 150 CEOs at the National Sporting Goods Association Annual Conference
"Dear Ms. McKinnon, Thank you for speaking at the 2015 Annual National Sporting Goods Association (NSGA) Management Conference & Team Dealer Summit. On behalf of everyone at NSGA, I want to express our gratitude for your willingness to take time out of your busy schedule, travel to Austin, Texas, and speak to our attendees. Your time management presentation enlightened and entertained everyone present, ultimately adding to the value and success of the event…We know our attendees greatly enjoyed your presentation and can now walk away with the tools to help boost their productivity. Your willingness to spend your time, energy and support on behalf of NSGA is greatly appreciated. We hope you continue to stay engaged with NSGA. Again, many thanks for your time and effort." Matt Carlson President & CEO

Executive Coach, Kathryn McKinnon delivered a tailored version of her Signature Presentation: 7 Time Management Best Practices of Highly Productive Executives and Leaders at an Insurance Leadership Conference Trade Association
Kathryn McKinnon, Time Management Speaker, Presented to 75 insurance executives and professionals at Amica Insurance during a Leadership Conference for the Rhode Island Chapter of the Society of Chartered Property & Casualty Underwriters.        
---
Radio and TV Media Appearances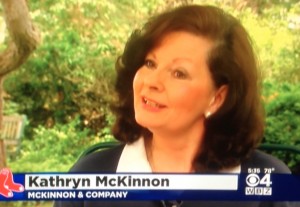 Kathryn McKinnon, productivity and leadership executive coach sits down with Jon Keller of WBZ TV CBS Boston:
Why using managerial savvy in the business of sports matters.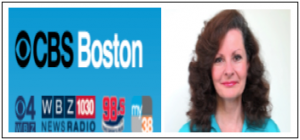 Kathryn McKinnon, Executive Coach and Author interviewed on WBZ Radio CBS Boston's 
Jordan Rich Show
sharing 10 time management strategies from her bestselling book on Amazon,
Triple Your Time Today!
Click here to listen to the Interview
---
Tips from Time Management Speaker Kathryn McKinnon  
All Rights Reserved. McKinnon & Company, 21 Robert Rd., Marblehead, MA 01945 781-631-2193 
[email protected]

Time Management Speaker, Virtual Time Management Speaker